Tablet Waiter
Tablet Waiter is an all in one solution for your bar or restaurant. It allows your customers to place orders from their table which automatically gets sent to the kitchen without the need for waiters. Customers can also call the waiter with the touch of a button and view their outstanding bill. Tablet Waiter runs on most popular tablet computers and also gives store owners real time data on orders and earnings while freeing up waiters to provide better customer service to your customers.
"Say goodbye to paper menus!! "
With the Tablet Waiter app, you have a fully automatic menu which will make your restaurant or cafe more efficient and modern.
The Tablet Waiter app is a 4 in 1 app, with the following mode of operation:
Customer Mode, Waiter Mode, Kitchen Mode and Cashier Mode
Choose your waiter (5 themes to choose from)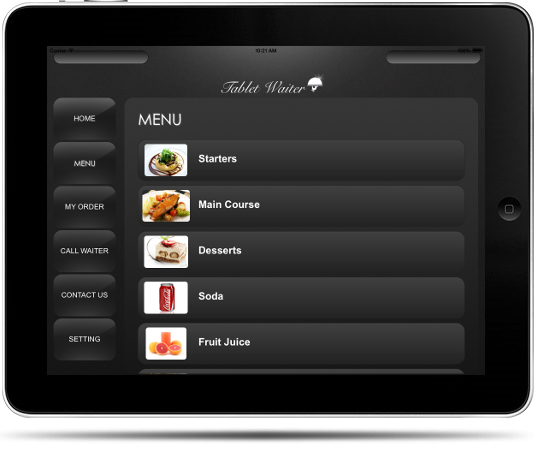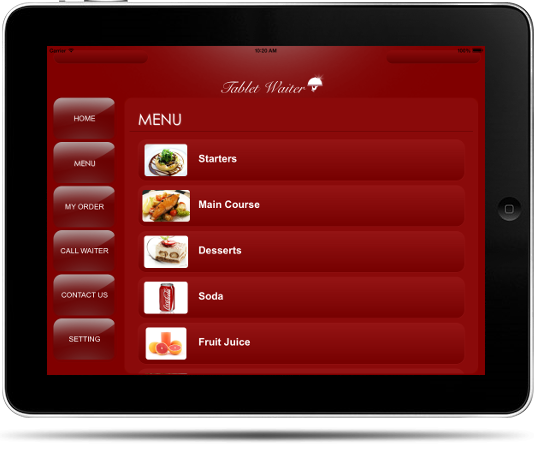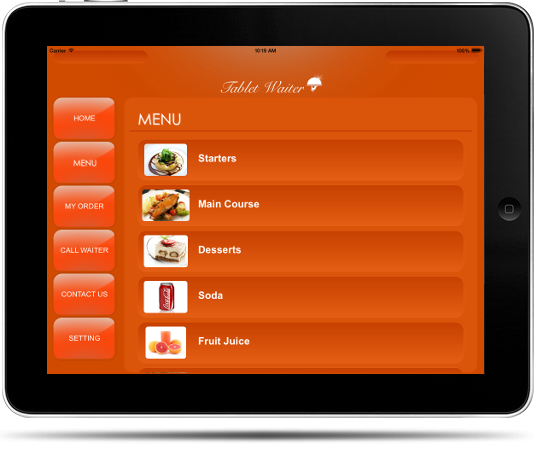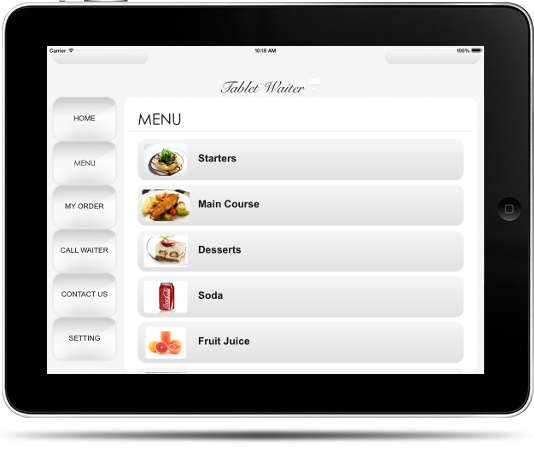 Choose your language (7 languages to choose from)
Customers can choose the language of their choice:
English, French, Turkish, German, Spanish, Portuguese, Arabic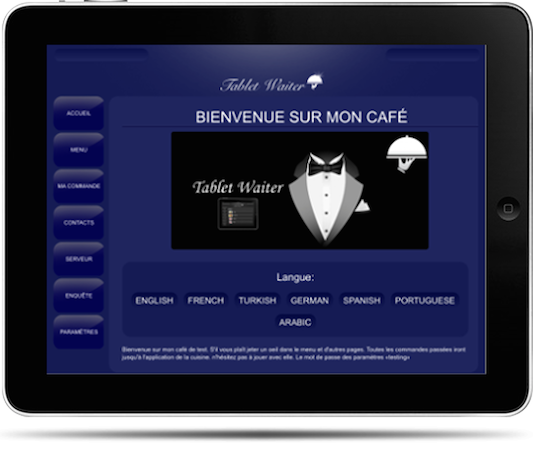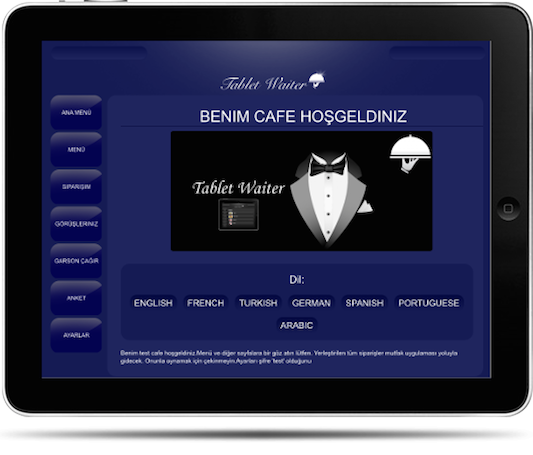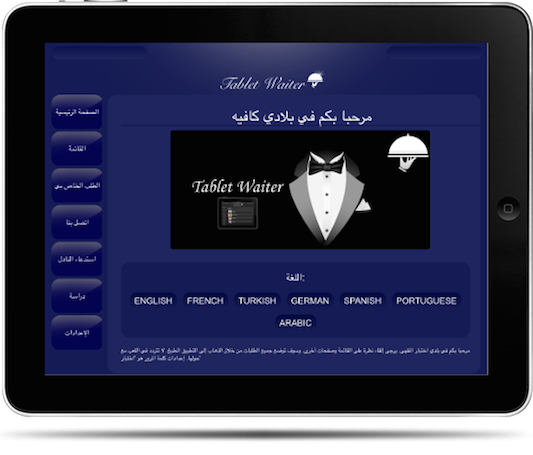 Tablet Waiter app modes:
Customer App
View Menu
Place Orders
Request Bill
Call Waiter
Leave Feedback
See Real Time Bill
Cashier App
View All Orders
Settle Orders
Cancel Orders
View Real Time Reporting
View Historical Reports
Waiter App
View Menu
View All Orders
Place Order For Customers
View Callouts
Kitchen App
View Waiting Orders
View Old Orders
Change Order Status
How It Works
Sign up and create items
Create categories and pages
Multiple stores under one account
Stores can have different items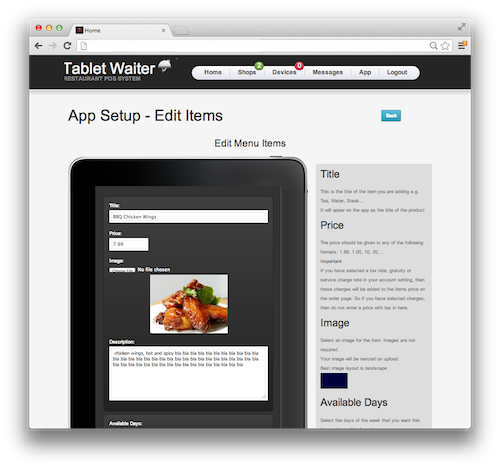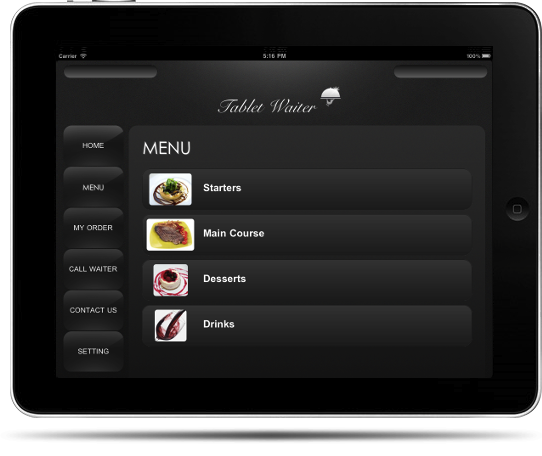 Download the free Tablet Waiter app from the app store
App syncs with your account
Customers can place orders from the app instore

Orders go directly to the kitchen
Cashiers and waiters have more time available for customer service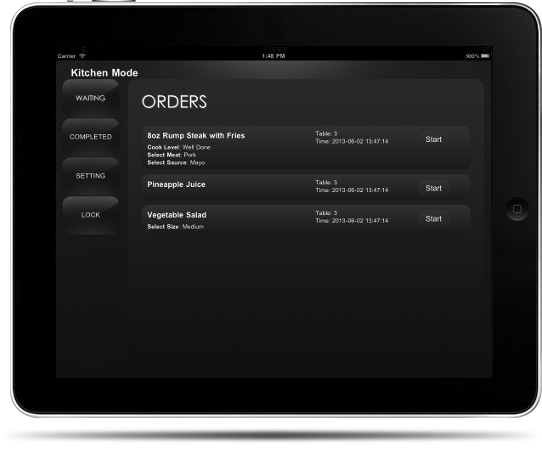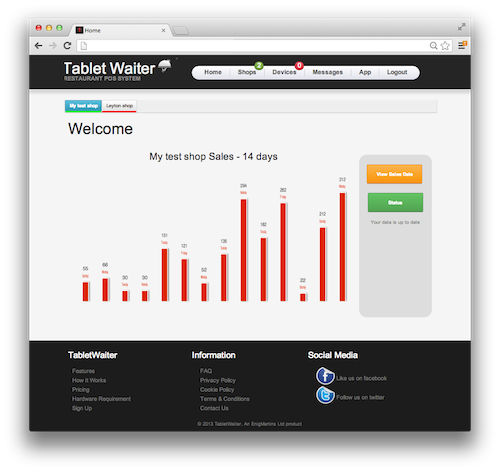 View real time data of all your stores, devices and sales
Historical data available at the click of a button
Want Something Different? Checkout Tablet Waiter Lite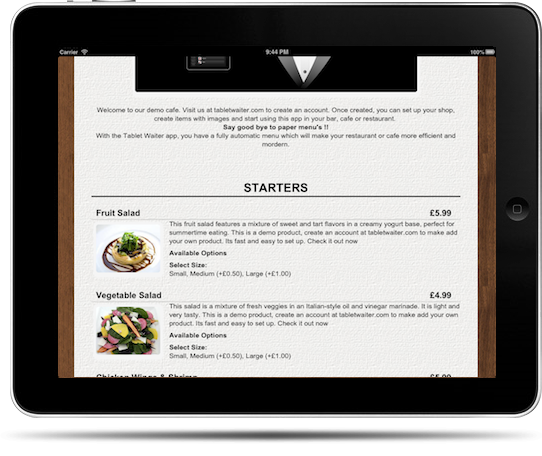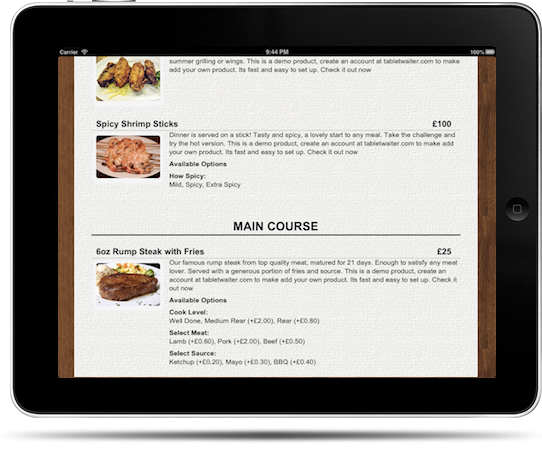 Tablet Waiter lite is an electronic menu for your bar or restaurant.
It allows your customers to view your menu while in your shop.
Your menu can be updated without the cost of reprinting.
All apps are connected to the cloud and update automatically.
Sold out items are automatically hidden from your menu at the touch of a button, so your customers only see what is available to buy.
Tablet Waiter lite runs on most popular tablet computers and is a cut down version of our tablet waiter app without the 'place order' functionality.